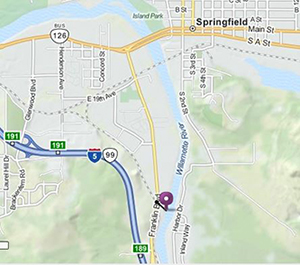 Ballroom History
Willamette Park Ballroom was a very popular dancing spot that opened May 23, 1931. The park was located on Pacific Highway / Rt 2 Hwy 99 S just before the railroad overpass in Glenwood (now would be described as just south of the Operating Engineers Training Center at 5001 Franklin Blvd).
The Proprietor and Manager was A. B. Loud. He also owned the Wire Rope Store in Eugene. Mr. Loud and his wife lived at 564 Lincoln Street in Eugene.
"The new Willamette Park Ballroom is to open with a two day celebration, Saturday and Sunday, May 23 and 24. The new ballroom embodies all the latest and most modern features to be found in the finest ballrooms in America. Nothing has been spared to make it the finest possible for the pleasure loving people of Eugene and vicinity…
Cole McElroy and his famous "Greater Oregonians" have been secured for the two day celebration. Cole McElroy needs no introduction to the music lovers of the Pacific coast. The name McElroy insures the finest in dance music and entertainment.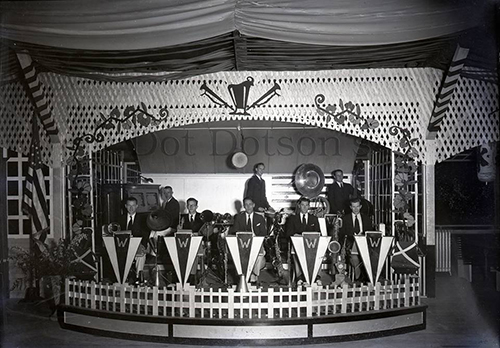 With the "Oregonians" will be that noted colored entertainer, Elmer Hunter, "The King of Harlem." The band is a ten-piece organization under the able direction of Prent Gross, who was born and raised in Eugene, and is a son of Mr. and Mrs. Leonard (Mike) Gross."  (Source RG May 21, 1931)
July 3,  1931 – "…swimming with the new cable car slide will be one of the features."
July 19,  1932 – Park to be scene of swim lessons for Red Cross certification…
March 24, 1934 – Opening of the Beer Garden at Willamette Park
Feb 14, 1936 – …In order that this may be an extra enjoyable evening, the patrons will be served punch, fruit and nuts, and marshmallows to roast over the big fireplace.
June 11, 1936 –The Music Corporation of America announce Willamette Park ballroom chosen to host national shows.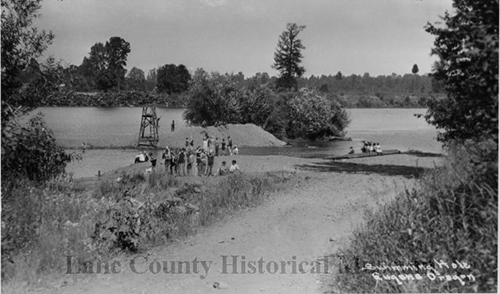 "Outstanding Bands Coming to Ballroom – The Music Corporation of America has chosen Willamette Park as one of the ballrooms in Oregon, outside of Portland, where they will send their bands. The public will soon see announcements of such stellar attractions as Dick Jurgens, Isham Jones, Hay Grason, and many others which will come to Jantzen Beach and Willamette Park."
July 4, 1936 – New Pavilion Open at Willamette Park…just completed its latest improvements in an open air pavilion at the north end of the dance building. It will be open every afternoon and evening during the summer. This raised platform overlooks the river, and the diving platforms and swimming pools, are in full view. Tables have been arranged for the benefit of the picnickers, or for those who wish to sit at tables, indulge in refreshments, in the shade of the big trees… Soon all the swimming facilities will be completed…A small charge will be made for the locker rooms, which are the only real modern locker rooms in the county. Dances will be held there Friday, Saturday and Sunday…
June 12, 1938 – Novel Entertainment Idea is Announced  –  "An innovation in the realm of dancing and entertainment will be presented to Eugeneans next Friday night…hold the first of a series of dances to high school students…Music will be furnished, the cable "areal-way" across the river will be re-installed, and no beer will be served…the Willamette Park swimming pool, which has been formed by enclosing an eddy of the Willamette river with log booms, will soon be ready for use again… All rafts and walks and the diving tower are being put in order for the summer.."
June 13 1938 – Student Dance Willamette Park. This Dance is specially for the young folks of Eugene. Good music will be provided; No beer will be sold Friday night. A nice place will be provided for the nice young people of Lane County every Friday night at an admission price of 25C per couple. Parents are admitted free. The Regular Saturday Night Dance will always be held with a big band.
June 4, 1939 – Dance hall owner tells his story – A. B. Loud, controversy about the licensing of Willamette Park…
Aug 19, 1939 – Fire at Willamette Park Ballroom
Aug 25, 1939 – Dance Held tonight for Musicians who lost instruments…Musicians Benefit Ball to be held at McArthur Court…Norry Kaldor, band leader and director…friendly musicians have loaned their own instruments to the members of Kaldor's band in order…
Oct 22, 1939 – The new pavilion is larger and finer that the one which burned last summer, Mr Loud said.
March 7, 1941 – Grand Opening Saturday March 8, The New Willamette Park featuring …
Nov 10, 1941 – Fire destroys Willamette Park Ballroom -Dance Resort Leveled Twice in Two Years… favorite dancing spot of Eugene and campus folks…Art Holman and his band members lose all their instruments, and Mr. Holman's entire music library, including over 200 arrangements.
Duke Ellington was to play at Willamette Park – "The only other place that could accommodate the proposed dance was the Eugene Armory. Eugene had a law that said there could be no public dances on Sunday, the date the Duke had been signed for.
A delegation of students swooped down on the city council and talked to the councilmen into setting the law aside-just this once. So the Duke came to Eugene. He and his boys were setting up shop in the Armory that Sunday morning, Dec 7, when the world heard that the Japanese had attacked Pearl Harbor.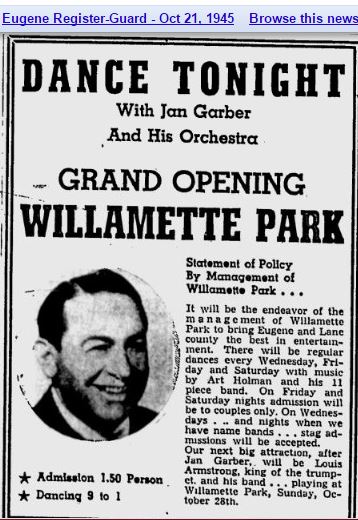 The band played on that afternoon. The crowd, as we recall, was large. Most people dancing were trying to enjoy themselves. They knew that such pleasures as dancing to Duke Ellington's band soon would be put aside. And they were." (Source: Eugene RG Nov 15, 1955)
Oct 15, 1945 – Grand Opening Saturday Oct 20 featuring Jan Garber and his Orchestra.
Nov 29, 1946 – Flood – Dancing will continue at Willamette Park. Dancing will go on as usual at the Willamette Park Saturday night, officials announced Friday. The parking lot at the entertainment hall is "high and dry" the announcement said. Recent high water in the Willamette had run over into the parking area.
Jan 7, 1948 – Flood -Restoring power to Glenwood area near Willamette Park after big flood.
Dec 6 1952 – Ad: Lane County Barn Dance at Willamette Park. Remodeled, Redecorated, Warm. Music by Ranch Hands
Feb 7, 1953 –Last dance ad I could find: Dance to the Western Swing Billies Saturday nights Willamette Park
Dec 21 1955 – 50 year flood. (guessing that this is the flood that destroyed the building)
May 13, 1957 – Auctions…Sale Sunday Willamette Park Auction, 1.4 mile south of Jim McKee Trailer Sales on old Hiway 99 south.
Wildish family buys land July 31, 1958. Already owned land next door.
Old aerial photos
1939 shows ballroom building on Willamette park site (726-35v 158)
1952 shows ballroom building on site
1960 does not show ballroom building on site.
Memories
Local pianist and band leader, Vera McAdams, notes in her memoirs, "Willamette Park was about 1 mile south of Eugene. It was in a beautiful setting with the hall built out over the river. Our band would go out and picnic then play music for dancing. It was a busy spot!  A number of the big traveling bands coming through town made special appearances there. The place deteriorated and eventually was destroyed by a big flood.
Dottie Chase described it as, "All the kids from high school went to Willamette Park. They'd put a bottle under our arms and went in… It was the only venue at the time. It was one big white shed… barn like feel to it. Nothing fancy, just a big hall with a dance floor, a stage with chairs and tables, Sammy Davis played there."
Music History
May 23, 1931 – Cole M'Elroy to open for new ballroom
"Cole McElroy and his famous "Greater Oregonians" have been secured for the two day celebration. Cole McElroy needs no introduction to the music lovers of the Pacific coast. The name McElroy insures the finest in dance music and entertainment (from Eugene).
With the "Oregonians" will be that noted colored entertainer, Elmer Hunter, "The King of Harlem." The band is a ten-piece organization under the able direction of Prent Gross, who was born and raised in Eugene, and is a son of Mr. and Mrs. Leonard (Mike) Gross.
May 30 & 31, 1931 – Johnnie Robinson's Varsity Vagabonds, Willamette Park – Eugene's newest Amusement Place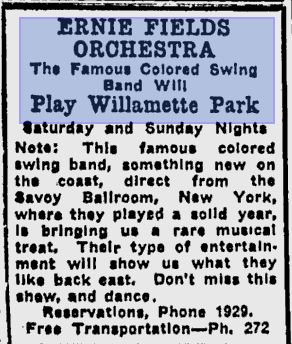 Aug 5, 1933 – Campus Cords, Always best music, Best place to dance. Free til 9. Admission 25C each
March 24, 1934  – Holman's College Band, one of finest (Art Holman)
Mar 31, 1934 – Art Holman's Boys, Eugene's Largest and Best Band. A packed house is indicated. Helmrick's & Hop Gold Beer served by Pitcher, half pitcher or glass.  (FIRST ALCOHOL IS MENTIONED IN AN AD)
Aug 17, 1934 – Sherwood Burr's College Orchestra
Dec 29, 1934 – The Ten Commanders – Dances Saturday Night and New Year's Eve Big Carnival Dance at Willamette Park
Oct 4, 1935 – Cole McElroy Band returns
Oct 16, 1935  – Ernie Fields Orchestra. The Famous Colored Swing Band will play Willamette Park Saturday and Sunday Nights. Note: This famous colored swing band, something new on the coast, direct from New York, where they played a solid year, is bringing us a rare musical treat. Their type of entertainment will show us what they like back east. Don't miss this show, and dance. Free Transportation – Ph 272, Reservations, Ph 1929
Nov 26, 1935 – McLean's College Orchestra

Dec 7, 1935 – McLean's College Band
June 14, 1936  – Archie Loveland
Sept 26, 1936 – Archie Parrott's Tops
Sept 27 & 30, 1936 – Harriet Calloway and Her Famous Colored Dance Band
Oct 2, 1936 – Bart Woodyard and his Orchestra (from Portland)
Oct 16, 1936 – Leonard Rapose and his Orchestra
Oct 17, 1936 – Archie Parrott and his band occupying the orchestra stand at the park…Parrott is well known to the dancing public of Eugene as he has played here many times before…
Oct 23, 1936 – Milton Taggert and his Orchestra
Nov 6,  1936 – Friday nite, Ivan Koeber's Band, The wild men of the Pampas featuring original entertainment and swing music. Saturday night Archie Parrott, Reservations, Phone 1929. Admission 40C
Nov 20 1936 – Big Rally Dance at Park Tonight…UO college football celebration. Ivan Koeber will play swing music for dance lovers…
April 28, 1937  – Griff Williams, Floyd Ray, Dan Flood Band
♥ Hear Griff Williams on YouTube
July 19 1937 – Settler's Valley (Annual Eugene Celebration/Pageant) to Attract Crowd of Fun Seekers — Plans are being completed for the third big feature of the pageant celebration, Settler's Valley. This new addition to the….it will be held at Willamette park…the big ballroom on the banks for the Willamette river will be transformed into an old-time casino with dancing refreshments, and games… The three-day event will be culminated in the gigantic "Queen's Ball on Saturday night. Brought to Oregon from LA for the dance, Floyd Ray and his 18-piece colored orchestra will beat out swing music for the dancers while…
Aug 20, 1937 – Dan Flood Band at Park Again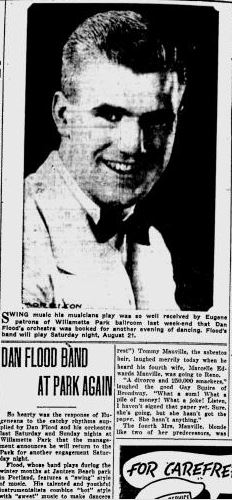 Sept 24, 1937 – Noted Swing Band at Park on Sunday. Red-hot swing tempo, as featured by Floyd Ray…
1937 – '38  Saturday nights typically featured Art Holeman and His Swing Band but had other guest appearances.
May 13 1938 – Les Hite's Band to play at Park
June 1938 – Friday night dances for youth are announced (summer only)
1938 – Added Friday night dancing at Ballroom featuring Maurice Binford
1938 shows – Les Hite and his Hollywood Heat Waves providing the swingy strains
1939 – Henry King and his Orchestra
Dec 30,  1939 – Jimmie Callahan's Band
May 27,  1939 – Allen Thom's band
March 1940 – Ed Fitzpatrick and his Orchestra
June 15, 1940 – Sterling Young
Feb 2,  1940 – Maurie Binford's Campus Band
Feb 25, 1940 – Eddie Fitzpatrick's Band coming
April 4,  1940 – Art Holman
May 10, 1940 – Carl Rooen's Swing Band featuring vocalist Alice Heinke & Owen Picton
May 11, 1940 – Paul Siebert – Oregon State's Finest Dance Band
June 1, 1940 Art Holman to play at Willamette Park for Last Time Saturday. Art Holman, popular local band leader, will make his final appearance of the summer Saturday night at …
July 31, 1940 – Mess Fund Dances to aid national guard. …Garwood Van's Rolling Rhythm orchestra will furnish…
Aug 9, 1940 – Ernie Fields America's Sweetest Swing Band Willamette Park Saturday Night
Sept 27, 1940 – "Tonight marks the beginning of the student dances which will continue every Friday night during Fall Term, Saturday Night Bobby Baker Orchestra…"
Oct 23, 1940- Billy MacDonald's Royal Hilanders
Nov 23, 1940 – Sam Crawford's Band Sixteen Pieces' featuring The Majorette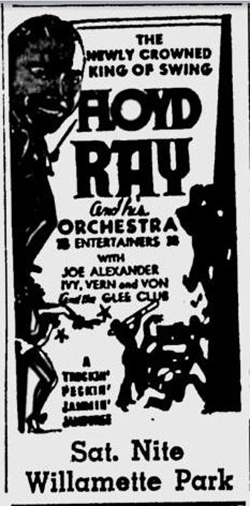 Dec 13, 1940 – The Newly crowned king of swing Floyd Ray and his Orchestra entertainers with Joe Alexander, Ivy, Vern and Von
Jan 24,  1941 – Eddie Gibson's Band
May 3, 1941 – Art Holman's Orchestra with Betty Wycoff,Erskine Hawkins
Aug 1, 1941 – Eugene Soldiers to dance at park to music of Jimmy Grier…
Aug 1941 – Ray Noble
Sept 26, 1941 – Trumpeter-Leader Coming to Park. Erskine Hawkins, who…
♥ Hear Erskine Hawkins on YouTube
♥ Hear Erskine Hawkins on YouTube
Oct 12,  1941 – Ted Fio Rito
♥ Hear Ted Fio Rito on YouTube

Oct 28, 1945 – Louis Armstrong
Aug 7, 1946 – Lionel Hampton and his orchestra Sunday Aug 11th
♥ Hear Lionel Hampton on YouTube
Oct 18, 1946 – Bob Wills and his Texas Playboys
♥ Hear Bob Wills and his Texas Playboys on YouTube
♥ Hear Bob Wills and his Texas Playboys on YouTube
Jan 25, 1947 – March of Dimes Ball is scheduled Jan 31…Ted Hallock's Orchestra
June 8, 1947 – Art Holman and His band
June 19, 1947 – Wally Heider and His Band (before he became a famous a San Francisco recording engineer. Lived in Eugene and went to UO).
♥ More about Wally Heider (LA Times article)
Oct 1, 1947 – Harry James and his Orchestra
Dec 31, 1947 – Johnny Lusk and his Orchestra
Jan 28, 1948 – Freddy Yahn's Orchestra
March 12, 1948 – Henry King
April 2, 1948 – Freddy Yahn's Orchestra, Next attraction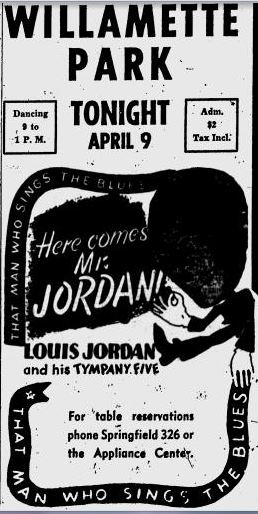 April 9, 1948 – Louis Jordan and his Tympany Five (Jump Blues)
♥ Hear Louis Jordan on YouTube
♥ Hear Louis Jordan on YouTube
July 1, 1948 – Freddy Yahn's Orchestra
Nov 19, 1948 – Merle Travis and his Orchestra
♥ Hear Merle Travis on YouTube
Dec 3, 1948  – Freddy Yahn's orchestra
1948  – Stan Kenton
April 7,  1949 – Feddy Yahn's Orchestra
Oct 7, 1949 – Tex Beneke Orchestra plays in the newly re-decorated ballroom
Nov 19, 1949 – Carmen Cavallaro, The Poet of the Piano" and his orchestra will play Dec 7th
♥ Hear Carmen Cavallaro on YouTube
♥ Hear Carmen Cavallaro on YouTube
Jan 4, 1950 – Freddy Yahn and His orchestra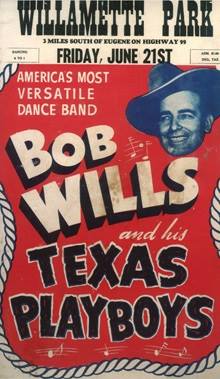 March 5, 1950 – Jack Fina Band
April 12, 1950-  Entertainment Enterprises Eugene Presents in person, "T" Texas Tyler and his Western Dance Band
April 14, 1950 – In Person the Noble Music of Leighton Noble and his Orchestra, Admission $1.00 plus tax – Dancing 9 pm to 1AM. Tickets and Reservations at Thompson's downtown, 29 E 8th, and Campus Radio Lab, 768 East 11th, and at Willamette park
♥ Hear Leighton Noble on YouTube
April 19, 1950 – Repeat Show – By Demand Castle Jazz Band Saturday April 22 Willamette park, The Tops in Dixieland Instrumentation, Charleston Content…
April 27, 1950 – Bill Riley and his orchestra
June 1, 1950 – Kay Starr (songstress), Freddy Keller's orchestra, and Bill Riley's orchestra
♥ Hear Kay Starr on YouTube (on Wayne Newton show)
June 8, 1951 – Will your favorite waitress be Lane County's Queens of Trays… Freddy Yahn Orchestra
Oct 24, 1951 Dancing every Saturday nite at Willamette Park, Dick Barrett and his Arizona Ranch hands. 1 mile so. Of Glenwood junction on Hiway 99 (also Oct 19th)
Jan 18, 1952  – Dick Barrett and his Arizona Ranch Hands
Sept 26, 1952 – Square Dance Roundup at Willamette Park
Dec 6, 1952 – Lane County Barn Dance at Willamette Park. Remodelled, Redecorated, Warm. Music by Ranch Hands
Dec  30, 1952 – New Lane County Barn Dance with The Ranch Hands at Willamette Park
Feb 7, 1953 –Dance to the Western Swing Billies Saturday nights Willamette Park