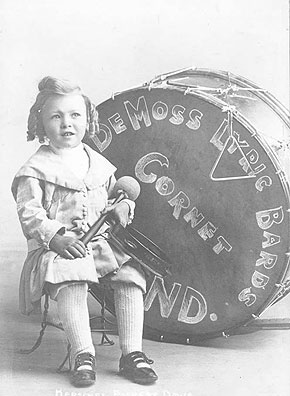 Accomplished musician, Herschel Davis, was well renowned in the Northwest for his swing and big band music. He directed his own orchestras and played piano and the organ in the Eugene area from 1921 – 1974.
Herschel was born to P. Waldo Davis and Lizzie DeMoss, of the famous musical family, The DeMoss Family Bards of Oregon. Herschel grew up on the stage and was known as the "Director of the Band" while traveling and entertaining crowds all over the nation. He traveled with the group til the age of four.
He moved to Eugene in 1921 from DeMoss Springs, near The Dalles, after graduating from the Philomath College School of Music. He also attended the University of Oregon.
Musical Accomplishments:
Herschel Davis and the Moose Orchestra
Herschel Davis and his Orchestra, "the small band with a big swing," Davis' orchestra, well known in Eugene, furnished music for three leading dance clubs during the past season.
The Neapolitan Knights (Herschel Davis, Elbert DeMoss, Charles Davis, Eldred Gilespy and Alfred Dillard). "This is a 100 percent union band and is composed of professional musicians who will cater to the dancing public."
Lifetime member of the American Federation of Musicians, Local 689
State organist for the Oregon Moose Association and played organ for the Eugene Moose Lodge No. 686 for 52 years.
Member and musician for Eugene Downtown Lions Club.
Venues
Moose Lodges and the Eugene Downtown Lions Club.
Frequently played at: The Holland, WOW Hall, Swimmers Delight, The Playground, Winter Garden Ballroom, Willamette Park Ballroom, Clingmans, Masonic Temple, Elks Lodge, Eugene Country Club (private events), Faculty Dance Club in Gerlinger Annex, & Jefferson Beach Dance Hall.

Herschel Davis Band at the Winter Garden Ballroom at 8th & Charnelton
Sept 17, 1947 – YMCA-YWCA Canteen programs, "The Skyline Club" for Senior High Students. "At the re-opening…Herschel Davis and orchestra will provide music. Their appearance is through the courtesy of the American Federation of Musicians, Local 689 which as a fund for community service projects."
Stories shared about Herschel Davis
Back then all the musicians would interchange between bands. The name of the orchestra would usually depend on who got the gig. –Waldene Gabhart (Herschel's daughter) 2015