1914 – 1950's
Original Name of the Store: M.C. Hammitt General Merchandise
Original Owners – M.C. and Kathleen Hammitt
The legendary dance hall was located upstairs of the Mohawk General Store at the intersection of Donna and Hill Road, east of Springfield. The hall included a bar, stage and small band room. Dances were held every Saturday night.
According to current owner, Terry Alberts, in an agreement between the Hammitt's and the Mohawk Brass Band, the band agreed to supply labor to construct the 6,000-square-foot building in exchange for use of the large upstairs hall to practice, hold performances and host dances.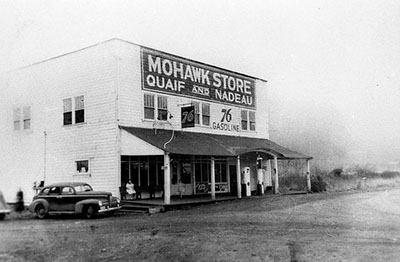 In the 1930's and 40's the store was renamed and included gas pumps and selling feed stock.
1946 – Mohawk Store – owned by Quaif and Nadeau (see photo)
Early 1960s – George Kingand and his wife operated the store
1963-1989 Ross Kessler
2013 – Present Terry Alberts
Sources:
Register Guard,  Aug 10, 2014
Springfield News, ? 2014
According to Wikipedia: 
Mohawk is an unincorporated community in Lane County, Oregon, United States, on the Mohawk River, about seven miles upstream from Springfield.
When a post office was established at this locale in 1862, it was named "Mohawk" after the river.  When the Southern Pacific Railroad established a station on the Marcola line there, it was named "Donna".  Historically there was also a nearby locale known as "Mohawk Post".