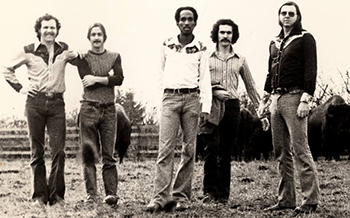 Active Years: 1975 – 1977
Genre: Folk/Country Rock
Base Location: Eugene, Oregon
Arroyo was founded by Don Ross after leaving the band "Wheatfield".
Arroyo had steady regular gigs at Murphy and Me in Eugene, the Reed Opera House and the Oregon Museum tavern in Salem, and Sacks Front Avenue and the Last Hurrah in Portland. They also played the WOW Hall in Eugene, the Earth Tavern and Euphoria in Portland and several festivals on the University of Oregon campus and around Eugene; opening for the likes of Pablo Cruise, the Son's of Chaplin and sharing bills with Turkey Run and other popular Eugene bands.
Don met Conway Slack at a music store where he worked and they started jamming together. He enlisted a frequent Wheatfield jammer, Tommy Smith.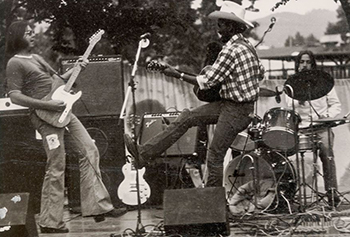 1975 – 1976
Don Ross – Guitar, Vocals (from Wheatfield)
Brian "Conway Slack" "Ercek – Pedal Steel Guitar
Tommy Smith – Guitar, Vocals
Mark Schneider – Bass, Vocals
Tom Grote – Drums, Vocals
 1976 – 1977
Don Ross – Guitar, Vocals
Mark Simpson – Pedal Steel Guitar, Vocals (from Portland's Country Al and his Pal's)
Mark Schneider – Bass, Vocals
Tommy Smith – Guitar, Vocals
Doug Ness – Drums – (from Notary Sojac)