Located between Jasper and Fall Creek on Jasper Road (4 miles above Jasper).
Dance hall located near a swimming hole on Fall Creek. Had picnic grounds and play area for the kids with swing set, etc. Kids had a place to play outside while the parents danced.
Building History
Originally the Shady Nook Resort in the 1930's.
Jan, 1937 – Thomas Tengs purchases Shady Nook dance resort
Jan 11, 1939 – Thomas Tengs of Shady Nook denied alcohol license
Sept 27, 1941 – Playground (sold and renamed)
1945 – Reopened by Mock family
Jan 17, 1946 – RG ad states, "Newly redecorated and remodeled."
1971 – Purchased by Mike Mahony and renamed Emerald Isle/Island
2014 – Elements finally bring the building to the ground, Winter 2014. Removed Feb 2015.
Music History – Shady Nook Resort
Aug 21, 1936 – Carl Rooen's Swing Band
Jan 15, 1937 – Bob Ramsay's Orchestra
June 24, 1938 – Garboden's Orchestra
Sept 23, 1938 – Herschel Davis Swing Band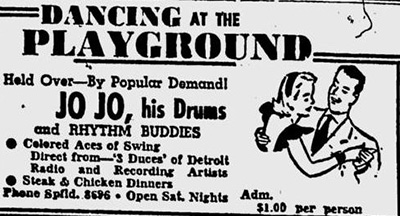 Music History – The Playground
1941 – Hal Hardin's 7-piece Orchestra
Sept 27, 1941 – Carl Rooen and his band
Nov 7, 1941 – Tommy Fair and his Orchestra
Oct 18, 1946 – Jo Jo, his drums and his Rhythm Buddies. Colored Aces of Swing….at the Playground
Aug 24, 1947 – Bud and Harry's Band
May 7, 1949 – Duke Warner (Local)
Oct 7, 1953 – Ferlin Huskey and Jean Shepard – famous country singers (did ode to hank williams)
A couple of country legends that played when they were just bus bands were Ferlin Husky and Lefty Frezell
Dec 5, 1953 – Four Fifths and a Pint, "Finest in Popular Music"
May 4, 1956 – Whitey Randell and his Music Makers
Jan 8, 1960 – Roy Shipman and the Lane County Boys (all through January)
Feb 5, 1960 – Johnny Hamilton and the Westernairs
Feb 26, 1960 – Bobby Wetzell and the Western Stars
Sept 29, 1961 – Jim Bottoms Trio