Melody Ranch was a country western dance hall located in the Four Corner's area.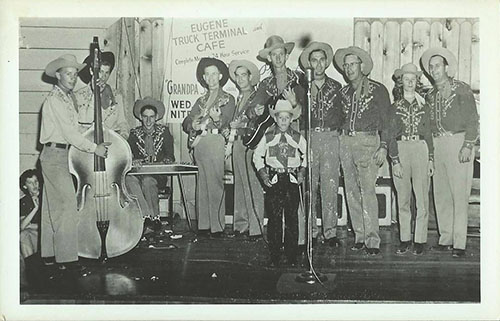 Operation Dates: 1947 – 1957
Owner/Operator: Lloyd "Grandpappy" Smith was an upright bass player and bandleader of the Western Valley Boys, the Melody Ranch house band.
Location: 2272 Roosevelt Blvd, Eugene, Oregon
Attracted Grand Ole Opry touring performers such as Ernest Tubb, Hank Snow, and even Little Richard.  Here's a great story about a young Willie Nelson.
While Willie was working at KCNC in Fort Worth, he sent a demo tape to Grandpappy Smith, the man to see when it came to country and western music in Eugene, Oregon.  Grandpappy owned the Melody ranch Dance Hall and was bandleader of the Western Valley Boys, the Melody Ranch house band, and hosted a show on KASH radio. He also had a small recording empire going on, with two record labels, Orbit Sound (for country acts) and Willamette Records, and a song publishing company, Myrtle Mountain Publishing…Grandpappy liked the demo well enough to book Willie at the Melody Ranch in May 1955. Grandpappy's twelve-year-old son, Leon Smith, played lead guitar behind him on the dates. Grandpappy liked Willie, but not enough to offer a recording contract or more bookings.  Source: Willie Nelson's Epic Life, 2008
Music History
Gene Autry (1955)
Willie Nelson (1955)
Johnny Cash
Jerry Lee Lewis
Ernest Tubb
Hank Snow
Little Richard
Gene Vincent
Building History
Originally an old barn
1947 – Lloyd "Grandpappy" Smith converted it into the Melody Ranch "honky tonk" / country dance hall
1957 – New Years Eve was the last event before closing their doors as a music venue.
1958-1960 – Used location as a recording studio (Orbit Sound and Willamette Records)
1959 – Reopened as a dance hall, Rendezvous
Later became Sherm's grocery store?