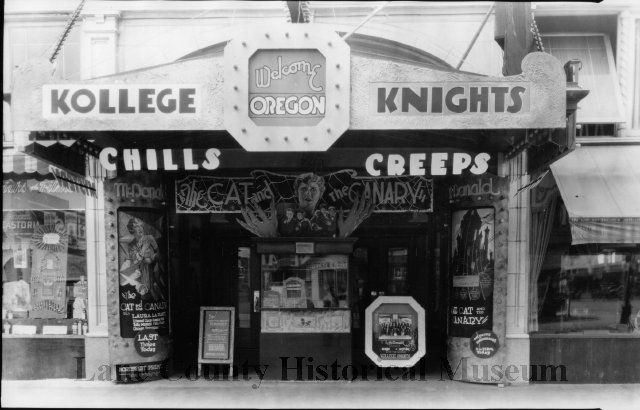 George McMurphey (1902-1979) was a the band leader of several orchestras based in Eugene, Oregon.
1926  Article in RG indicated that George became the manager of a local musical booking agency.
1926 – 1928 George McMurphey and the "Kollege Knights was the nation's 10 best dance and show bands. The jazz band was made up of University of Oregon students, many from the School of Music."
1926 – 1927 George McMurphey's Blue Boys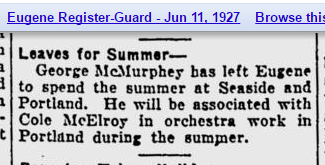 1927 Summer of 1927, George spent time in Seaside and Portland with orchestra leader Cole McElroy (also lived in Eugene to attend UO)
1928 George McMurphey and his Orchestra
Wesley "Razz" Asbury, played trumpet for George McMurphey in 1927-1928 at the University of Oregon when they were known as George McMurphey and his Kollege Knights.
Performances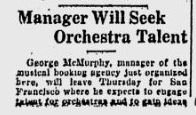 July 21, 1926 American Legion Candidate Dance with the Winter Garden "Blue Boys" – A wonderful orchestra of college boys
Aug 18, 19, 20 – Trail to Rail Celebration Dance at the Winter Garden – McMurphey's Blue Boys
Oc7 28, 1927 – Kollege Knights at McDonald Theater with Co-Ed Harmonizers Halloween event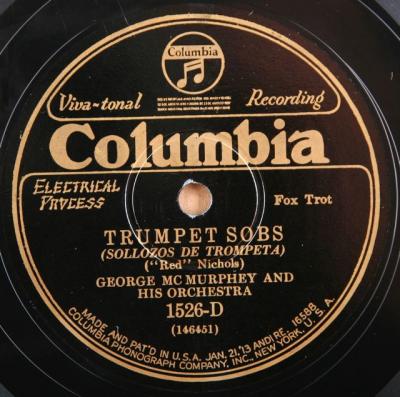 Discography
Poor Butterfly by George McMurphy and his orchestra (recorded June 18, 1928, released by Columbia Records as catalog number 1498D), with the flip side "Allah's Holiday"
Trumpet Sobs by George McMurphy and his orchestra – 1928 (released by Columbia Records as catalog number 1526D)
Alice Blue Gown by George McMurphy and his orchestra – 1928 (released by Columbia Records as catalog number 146458)
Shelton-McMurphey Family History (Musical Family)
"The original owners of the Shelton-McMurphey House were Doctor Thomas Winthrop Shelton and his wife, Adah Lily Lucas Shelton. The Sheltons moved to Eugene in 1873 with their new baby daughter, Alberta. Fourteen years later, they built the house on the lower, south-facing flank of Skinner Butte.
Dr. Shelton died of leukemia in February 1893. He was 49. Later that year, Adah Shelton moved to Portland, leaving the home to her daughter, Alberta and son-in-law, Robert McMurphey.
Alberta McMurphey was one of the first graduates of the University of Oregon School of Music in 1886. She taught music in the high school before her marriage to Robert McMurphey on July 31, 1893. Between 1894 and 1904, the McMurpheys had four daughters and two sons (George).
The McMurphey children spent their days in the house practicing music, sewing their own clothes, and helping out around the home with chores. Music was an important pastime in the household, as Alberta had graduated from a piano conservatory at the University of Oregon and taught piano lessons for some time."   -Source: Shelton-McMurphey-Johnson House Website, 2016
In 1932, George moved to Portland and pursued a career as a theatrical promoter. He went was the manager of the Paramount, Broadway, Heilig, United Artists and Alder theaters in Portland, and was city manager for the Fox West Coast theaters.