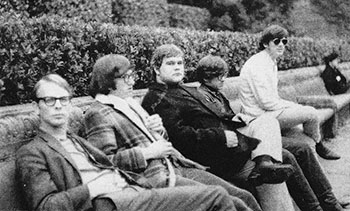 Active Years: 1965-1968
Genre: Blues
Base Location: Eugene, Oregon
Evolution of the Band
Gordon Scott and the Seventh Resemblance Blues Band (1965-1966)
Seventh Resemblance Blues Band (1966-1968)
The Stumble (1969-1970)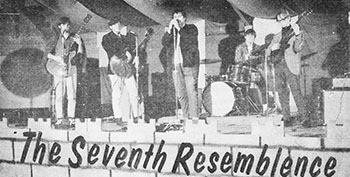 Members
Rob Anderson – Rhythm Guitar, Vocals
Gary Beck – Lead Guitar  (deceased, 2011)
Randy Crawford – Bass
Clark Lynch – Drums
Gordon Scott – Vocals (deceased, 1993)
Regular gigs included "The Union Broiler" in an old union building, downtown Eugene and The Tork Club in Glenwood.
Comments From the Band Members
"I moved into electric music in 1965/6 with a band called The Seventh Resemblance. It included Gary Beck on lead guitar (Gary was a serious jazz musician and locally thought to be the best player around), Gordon Scott (a local DJ) on vocals, Randy Crawford on bass, Clark Lynch on Drums and me on rhythm guitar and vocals. We played frequently at The Tork Club. It was a great teenage spot while it lasted. We played together until I was drafted June of 68." -Rob Anderson, May 2016 (currently resides in London).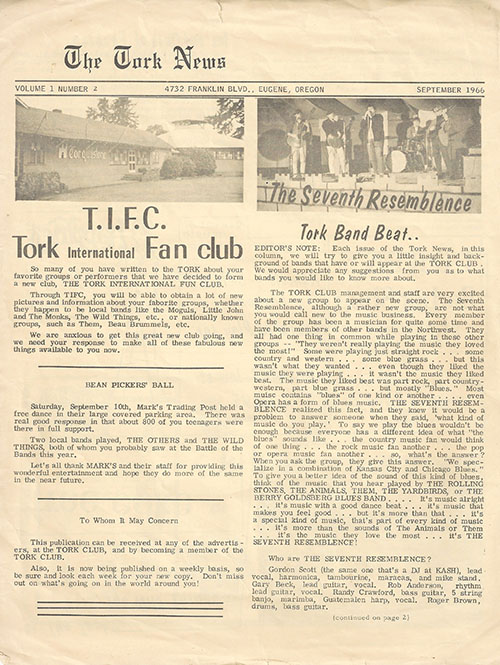 "In 1967, The Moguls and The Seventh Resemblance Blues Band joined to rehearse together and put together a 20-minute set for The Lane County Fair Battle of the Bands. (The Moguls had won it two year in a row prior to that). We called that band 'Ultimate Hair'. We won the battle easily." -Randy Bryson, February 2008 (Source: PNW Bands)
"Our bands included what was originally 'Gordon Scott and The Seventh Resemblance Blues Band,' later to become 'The Seventh Resemblance' 1966-1967 and after my military duty, 'The Stumble' in 1969." -Clark Lynch, November 2011 (Source: PNW Bands)