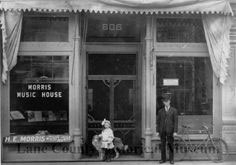 Morris Music House was also known as the Morris Piano House
Owned by Harley E. Morris
Date: 1905 – 1927
Location: 606 Willamette Street, Eugene, Oregon (pre-1913 street numbers). The store was on the southwest corner of Willamette and 9th Avenue.
The street number later changed to 912 Willamette.
The music store was housed in the Chrisman Building, erected in 1891.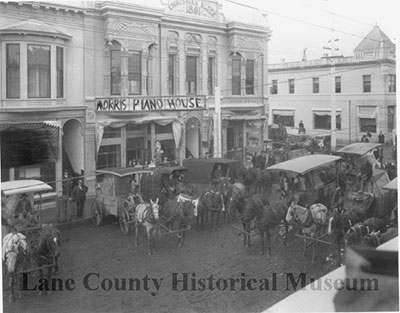 In the early 1900's, the delivery of pianos were by horse-drawn wagons. According to a note written on the back of the Oct. 17, 1906 (GN1049) photograph, "All the draymen in Eugene. (17) were in parade".
In January 1927, the Victorian-style Chrisman Block Building was demolished. This site subsequently became the location of the McMorran & Washburne Department Store (904 Willamette Street).
Today, you will find Sizzle Pie pizza in the lower level.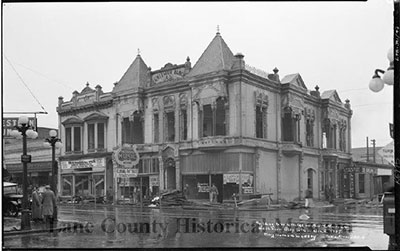 The photograph to the right (KE975) shows the Morris Music House and other businesses display closing out sale signs prior to demolition.
Source: Lane County Historical Museum