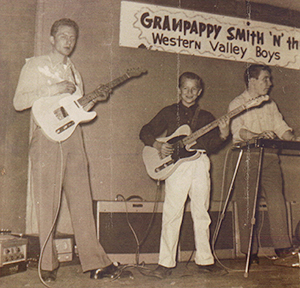 Location: West Eugene, Oregon
With roots in the early rock 'n roll scene, now known as Rockabilly music, Leon Smith can be found in the Rockabilly Hall of Fame. Leon Smith's 1959 hit single, Little 40 Ford, quickly rose to the top of the charts on the West Coast and allowed him to make his mark in rock 'n roll history.
Early in his career he shared the stage with numerous legends such as Willie Nelson, Ferlin Husky, Jim Reeves, Marty Robbins, George Jones, Rose Maddox, Gene Vincent, Jerry Lee Lewis, Duane Eddy, Carl Dobkins Jr., Fats Domino, Little Richard, Neil Sedaka, Jimmy Clanton, Larry and Laurie Collins, The Fleetwoods, The Sneed Family and The Ventures to name a few.
On May 2, 1959, Leon Smith released the rockabilly single "Little 40 Ford". Recorded in a Eugene studio basement, the song was an instant hit in the Northwest. Smith signed a deal with Epic Records, and two months later, "Little 40 Ford" entered the national charts. He was 15 years old.

The son of a musician/club owner/radio host, he started performing at age 4 with his father's country-western band, Grand Pappy Smith and the Western Valley Boys. The group made a home for itself at the Melody Ranch dance hall in west Eugene. See link for full article: Leon Smith 'Little 40 Ford' has logged a few miles – Sept 7, 2001 Eugene Register Guard.
Little 40 Ford by The Orbit Rockers. Written by Wayne Marshall