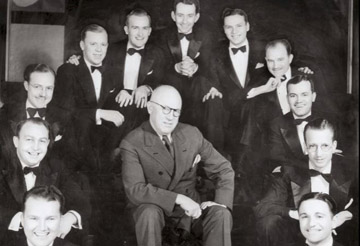 Cole McElroy (1888 – 1947)
J. Cole McElroy, also known as "Pop" McElroy was a popular Jazz musician and widely known dance hall manager from Oregon.
"Born in Corvallis to E.B. McElroy, he moved to Eugene to attend the University of Oregon in the late 1800's. He graduated from UO in 1900. In 1910, after nine years managing his father's farm near Monroe, he decided to switch career paths and enter the entertainment field in Eugene.
Cole moved from Eugene to Portland, Oregon in 1913, were his music continued to grow in popularity.
J. Cole McElroy will celebrate his silver jubilee in the dance band business at the McElroy Palm Gardens tonight.  A gala presentation by Del Milne of the orchestra and entertainers will predominate all through the evening.
It was on October 23, 1910, that 'Pop' McElroy started with a four-piece orchestra at Eugene.  From then on his rise in the dance world became of both national and international note.
It was the phonograph records made by the McElroy's Greater Oregonians and his extended tours of the Pacific coast that aided to bring this fame to the local impresario.  Under his guidance the McElroy hands have always rated among America's outstanding dance orchestras.
This success was repeated again during the past summer when McElroy took the present organization under the direction of Del Milne, to California, winning plaudits of both press and public.  Some critics ventured to give the orchestra rating over any dance band to have appeared in the southern state.
During the 25 years of managing dance bands Cole McElroy won personal distinction as the foremost impresario in the Pacific northwest by bringing the outstanding name bands of America to the district and personally supervising their tours.
It was on February 19, 1926, that the McElroy Spanish ballroom was opened  in Portland.  The Seattle McElroy ballroom was opened May 18, 1928." Source: Ancestry.com