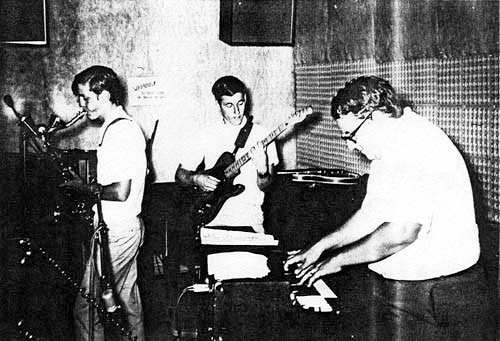 Location: 2646 Willamette St., Eugene Oregon
Owner: Alan Graves
Alan Graves starting his recording activities as a high school student in Eugene, Oregon. In the early 1960's Graves Recording opened for business in the basement of Alan's house. Success bred expansion, and in 1966 he opened a studio in downtown Eugene. Graves catered to custom recording of all types, including spoken word business promotions, but the Graves legacy is best preserved in the brilliant 'garage band' era recording he made with local teen rock and roll combos. Most of the records out of Graves were package jobs where the bands recorded and had 500 copies pressed up under the Graves imprint. Some of the early recordings used custom label names, and at least one, possibly two, Graves products were issued on the Tork label, as a cooperative with the Tork teen dance club in Eugene. In 1967 Alan decided to create a distinct label name, and F-Empire was born. There are only two known records on F-Empire. Graves gradually ceased the recording operations to focus on his record mastering business under the name of Audio Lathe. All of the garage era Graves 45s and LPs were pressed by RCA in Hollywood.  (Source: Buckeye Beat)
In a phone interview by Chris at Garage Hangover, Alan Graves recalls,
There may be other "garage" bands, but most of the stuff I did was local schools, etc. – some gospel and dixieland jazz band stuff. None of the records pressed were released by me, but were the property of the individual bands – who either gave them away or sold them. Most were done in a limited press of 500 copies each. So if you have any of them, I guess you could say they are rare. Since the records were the property of the bands, I rarely kept any copies – and have none now. I re-activated the studio by acquiring a Scully Mastering record cutting Lathe, and under the name of "The Audio Lathe" cut lots of "acetate" records for DJ's and juke boxes. I sold that last November, and now back to just hosting the History of the Presto Recording Corp on the internet."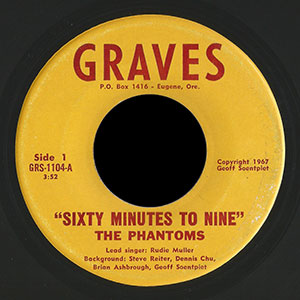 The Graves catalog was assigned a consecutive catalog number prefaced by the GRS identifier. The sequence started at 1000 and continued until the last known number.
1011 (Surf), Estep Brothers,  Leave Me Alone / Linda Sue
1068 Billy Wade and the Country Boys, Conscious, Let Me Go / Two Hearts
1079 LP – spoken word
1088 Gaylon Farnsworth / Glenn Jonas and Norman Fox, The Frog Song / It Even Burned the Water, KBMC-FM
1091 the Dominions, I Need Her / Spanish Harlem
1094 the Sires, Don't Look Now / Come To Me Baby
1095 (Tork), the Moguls, Another Day / Round Randy (Dec. 1966)
1099 the Ethics, She's A Deceiver / It's OK (March 1967)
1100 Fifth Row Bac, Please Don't Go / Destination Train
1102 Smokey Metcalf and his Timber Toppers, How Can You Love Me / Don't Come Knocking At My Door (1967)
1104 the Phantoms, Hallucinogenic Odyssey / Sixty Minutes to Nine (1967)
1106 (F-Empire), the Barber Green, Gliding Ride (August 1968)
F-Empire (no #): Beauregarde (features Beauregarde on vocals, Greg Sage on lead guitar, Omar Bose on keyboards and trumpet, Dave Kolpel on bass, Allen Robinson on congas and sax, and Jay Lundell on drums.)
A demo tape was recorded at Graves by the Ingredients Unknown, but no records were produced.