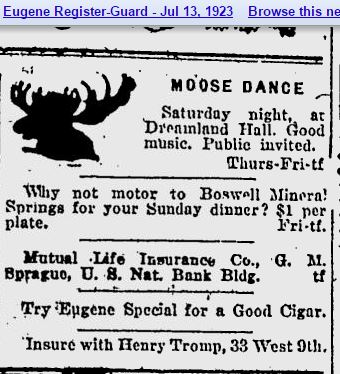 Original Location: 15 W 7th Ave. Downtown Eugene
Building History
1923 – Dreamland Hall first mentioned
1925 – Hall has been remodeled and redecorated
1926 – New hardwood maple floor added
1931 – Grand Opening at 7th and Willamette location
C. 1934 – Moved to West Broadway
After 1952 – Moved to 13th and Chambers
Vera McAdams recalls,  "The Moose Hall was over Coburn's camera shop on 7th and Willamette.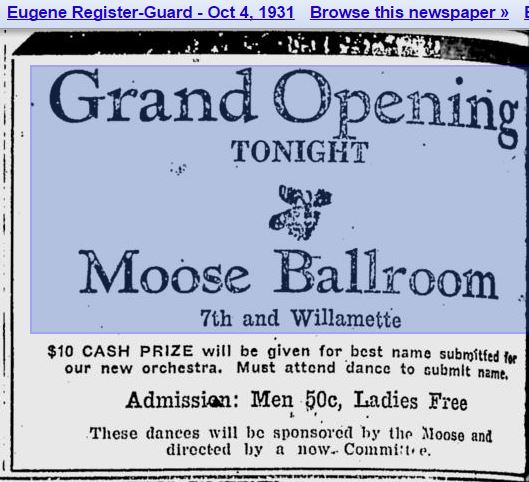 We had the Old Time Dance on Thursday nights. The band was Clarence Butler (fiddle), Wallance Wintler (banjo), Floyd Woods (drums) and Vera McAdams (piano).
Vera's Modern band played there on Wed nights for some time…it consisted of Alex Shipe (sax); Dow Moxley (trombone); Wallace Wintler (banjo); Floyed Woods (drums and vibraphone) and Vera McAdams (piano). Eddie Scroggins (sax) later joined the group.
After a few years the Moose moved to a hall over "Fred Myers" store on West Broadway. They called it "The Dreamland". The Fred Myers store wanted to stock groceries, the city wouldn't allow it so they moved out and Pay Less then occupied that space. The Moose used this hall many years until they build a new building on 13th and Chambers. Later they sold it to the Masons. The Moose then built another building just north of the one they sold which they still occupy."  – Source Vera McAdams Manuscript.
Music History:
1927 – Loffer's Orchestra Every Wednesday Night – Regular Dance Every Saturday Night
1931 – Ellis Ray's Blue Jackets every Wed. and Sat night