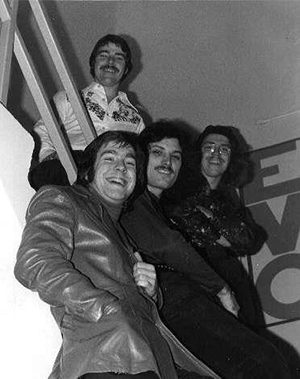 Active Years: 1972-?
Base Location: Eugene, Oregon
Genre: Originals and Classic Rock
The band incorporated guitar, bass, drums, synthesizer, sax, and flute and Gary's strong vocals and Barry's Flute/Sax combo allowed them to pull off tunes by popular artists of the day that other bands could not pull off. They covered tunes by Jethro Tull, Led Zeppelin, Wishbone Ash, even Herbie Hancock with the addition of Eric Franz playing the drum part and synth parts and arranging two and three part harmonies for the guitar, synth, and sax wowed audiences. Even today when Uncle Charlies is mentioned many a Eugene area music fan of the day will get a big smile and some fond memories of the band.
Members:
Gary Engelmann – Vocals, bass, guitar, sax, percussion
Mark Leighton – Lead guitar & vocals
Richard Deisner – Drums, guitar, percussion
Eric Franz – Hammond B3 organ, synthesizer, drums, vocals, percussion
Barry Bogart – Sax, flute, bass, vocals, synthesizer, percussion
The Birth of the Uncle Charlie's Boogie Band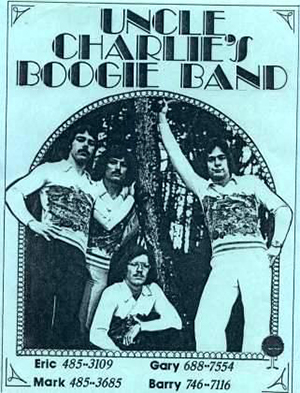 In 1972, while Gary was attending LCC, he became the lead vocalist for the LCC Stage Band.  The KASH radio station showed up one afternoon with the intention of enlisting musicians for a band they were wanting to assemble. Gary and his fellow classmates Barry Bogart and Eric Franz were enlisted. But after rejecting KASH's choice for a lead guitarist, they invited Mark Leighton (their former guitar player from The Soft) to join them.
Music History
This band was incredibly popular in the area for years, playing all over Oregon. They pretty much played every club, tavern, concert venue, and performed at several of the Concert In The Park series, including the initial one. They also headlined concerts and were a warm up act for Eric Burton.
1975 RG Article on the Annual Musicians' Ball at the Eugene Hotel