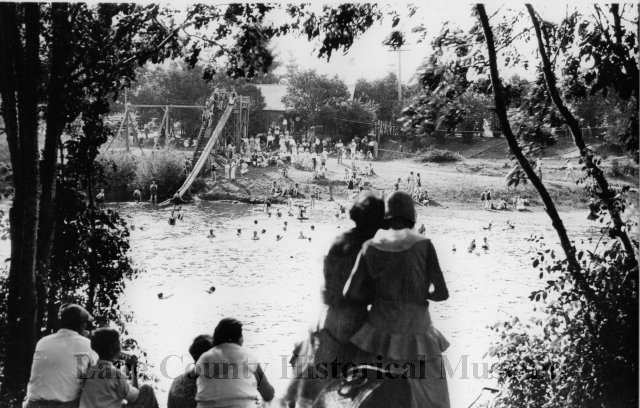 Swimmers' Delight was a popular music venue, but also well known for it's swimming hole, baseball field, and rodeos.
Location: SW of Goshen
Description: Open air pavilion. Opened May 1926
Original Owners: Gainey and Hattie Jacoby
My first job was for the opening of Swimmers' Delight, a new picnic resort three miles south west of Goshen on the Coast Fork Willamette River. It was opened by Gainey and Hattie Jacoby with a big band pavilion and a nice swimming place. Jack Loffers Band was engaged for the big event. The band consisted of Jack Loffer (sax), Wayne Elliot (violin), Glen Veeder (drums) and Vera McAdams (piano). We weren't paid any money but was given a chicken dinner for our services. The Jacoby's owned it for quite some time, then sold it to "The Eugene Elks Club" who operated it for a few years. – Source: Exerpts from Vera McAdam's Manuscript, located at LCHM
Venue History
May 1926 Opens Venue
April 1928 – Ad states, "Larger floor space. Big fireplace. Better lights. Lunch counter. Music by Buddy's Orchestra
July 1930 – Ad identifies J Shannon as the new manager.
1932 – Refinished floor
Under new ownership in late 1941 and number of ads seem to reduce significantly. W.B. Wagnor
Music History
1926
Aug 12 – Garrett's orchestra
Aug 13 thru Oct 8 – Wayne Headley's orchestra played regularly
Aug – Jack Loffers Band
Nov 16 – Ad announces it will close for Winter
1927
Weekly dances but no band/orchestra identified
April 23 – Dance ad states, "Help Us Name Our New Orchestra"
1928
April/ May – Buddy's Orchestra
Oct – Ad announces it will close for Season
1929
Swimmers Delight Special Orchestra (most ads)
Buddy Nicklaus at the piano (most ads)
Aug – Mrs Palmer at the piano
1930
April 1 – Swimmer's Delight orchestra (play all season). Will broadcast over KORE
July 16 – Special dance with the Red Hot orchestra
1931
Continues to broadcast over KORE
March thru May –  Ada V Palmer and Her Rhythm Makers
Aug 22, 23 – Herschel Davis at the Piano
Aug 29 – Hear our special orchestra featuring Elbert De Moss on violin
1932
No mention of orchestra. Assuming it was the house band
1933
May 12 – Hear our New Orchestra
May 19 – Hear our New 6-piece Orchestra
Dec 23 – Dexter Community Dance with Copenhaver's Orchestra
1934
April 1 – Annual Spring Opening Dance – Music by Swimmers Delight New 7-piece Dance Band. Free beer to dancers.
April 21 – Music of Swimmers Delight Red Hot Red Jackets
April 29 –  8th Anniversary Party with special guest performers at the dance pavilion
June 19, 23, 26 & July 10, 17  – Max Morse's Orchestra / Max Morse and His Band
Aug 4  – Herschel Davis and his Dance Orchestra
1935
June 6 – The Reno Racketeers
June 29 & July 3, 9, 10 – Earl Gibson's Orchestra
Aug 16 – Heidelberg Dance Band
All Sept – Earl Gibson's Band
1936
April 5 – Cole McElroy's Spanish Ballroom Orchestra
April 12 – Johnny Bush and his 11 musicians
April 19 – Gary McLean's 12-piece Band
April 26 – Johnnie Bush and His Orchestra by special request return engagement
May 3 – Kenny Allen and His Blue Flame Revue Orchestra from Portland featuring Carol King, singer and entertainer
May 10 – Gary McLean's 12-piece orchestra
May 24 & 31 – Kenny Allen Returns
June 7 – Johnny Bush's orchestra. From here it goes to Seaside where it will play all summer.
June 13 & 14 – Bob Keefe and His 11 Musicians featuring Pat Carlon of Seattle
June 19 – Del Courtney and His Orchestra
June 21 – Bob Keefe's Orchestra with Pat Carlon & Dinky Bowman
June 28 – Cole McElroy's New Palm Garden Orchestra — Article: Cole McElroy Orchestra
July & Aug – Bob Keefe's Orchestra/Bob Keefe's Famous Rhythm Men
Sept 13 – Flick Crocker and His Rhythm Men
1937
April 18 – Kenny Allen's Orchestra
April 25 – Gus Meyers and His 11 Musicians
May/June/July/Aug/Sept/Oct/Nov – Carl Rooen's Swing Band (seemed to be the house band)
May 15 – Gary McLean and his NBC Artists featuring Don Bowman, vocalist, The Rascals Three Trio, Dixieland Quintet
May 29, 30 & June 13, 20, 26 – Billy Mozet and his 11 all star players
June 11 – Ernie Fields and his Orchestra
July 18 – Chief Wahoo and His Sioux Indian Orchestra
Aug 1 – Charles Brinkley and His 11 Artists
Aug 22 – Ernie Fields and His 15 Colored Artists
Sept 5 & 6 – Dick Chaney and His Eleven Piece Orchestra
Oct 3, 17, 24 – Maurie Binford and his 11-piece orchestra
Dec 31 – "Tup" Church and his Deacons from Salem
1938
April 10 – Jack Shepherd's Oregon State Dance Band
April 17, May 15 – Louie Ventrella and His 9 Musicians
April 22 – Gene Coy and his eleven black aces – CBS and NBC artists
April 24, May 8, May 22 – Maurie Binford and his Popular 11 piece band
May 1,  June 5, Aug 14 – Jack Shepherd's Oregon State Dance Band
May 29 & 30 – Gene Coy and His Eleven Black Aces
June 12  – Gene Coy and His Eleven Black Aces with special appearance by Allen Durham, vocalist and sax player who performed with Louis Armstrong
June thru Nov  – Carl Rooen and His Swing Band
August 28 – Ernie Fields and 17 colored performers and musicians
Dec 31 – Elwood Soasey's Swingters
1939
April 2 – Allen Tom's Oregon State dance band
April/May  – Maurie Binford and his Oregon Campus Dance Band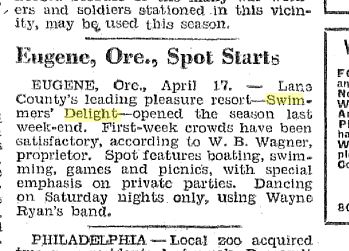 May 30  – Gene Coy and his 11 Black Aces
May 2  – Bob Keene's Orchestra
May/June/July/Aug – Allen Tom's Orchestra
June /July – Art Holman's Dance Band
June 30 –  Tubb Brown and his Swingsters, with vocalist Don Kielblock
Aug/Sept – Carl Rooen's Swing Band
Aug 27 & Sept- Norry Kaldor's Orchestra
December 31 – Clarence Zieszling's Orchestra
1940
March 24 – Gene Coy and His 11 Black Aces
March 31 – Art Holman and his band
April thru June – Tub Brown and his oregon state band with Don Kielblock
April 14 – Gene Coy and His 11 Black Aces
April thru June – Maurie Binford and his Oregon Campus Dance Band
May – Bob Keene's Dance band
June thru Oct – Elmo Bailey's Orchestra
June 23 – Eddie Scroggins Dance Band
July/Aug – Carl Rooen
December 31, 1940 – Hal Moffitt's dance band
1941
April 20 – Eddie Gipson Trio (Art Ulman, Kay Hadlock, and Eddie Gipson)
May 4, 1941 – Eddie Gipson
May – Tubb Brown
July 13 – Ernie Fields (15 piece orchestra) and vocalist Stella Edmerson
1942
1942 – Carl Rooen and his orchestra, house band "Every Saturday Night"
1943-1947 – Wayne Ryan's Orchestra, house band "Every Saturday Night"
July 2, 1949 – Tommy Fox and His Orchestra, "The Most Danceable Band in Willamette Land"