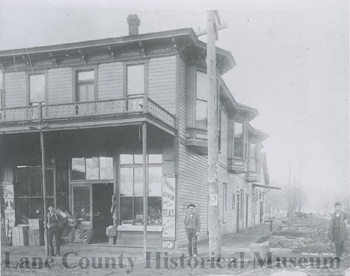 Location:  9th and Oak St. Downtown Eugene
Owner: J.B. Rhinehart
Because Eugene's location offered a convenient one-night stop for road companies traveling between Portland and San Francisco, many of the top stars of the day appeared on the Rhinehart Theater stage.
Building History
1884 Rhinehart Theater – As the town grew in size, moving outward from the river, a larger theater was erected at Ninth Street east (now Broadway) and Oak facing the municipal park. The Rhinehart Theater was about as large as the average theaters in Portland and other larger cities.
Having its' first opening on the fourth of July, the building was described as "well-proportioned," with dimensions of 32 by 56 feet, a 16-foot ceiling and seating capacity of 500.
By 1888, the theater was shown to have a balcony and the previous "dance hall" was now called Rhinehart's Parlors. By the time of the "Gay Nineties" Rhinehart's had been rebuilt and refurnished with such luxury features as red velvet curtains and boxes for the elite.
1890 Parker Opera House – The theater was sold and renamed the Parker Opera House by its new manager, Charles Wolcott. It lost its allure after the Eugene Theater opened in 1903, and it was eventually converted into a warehouse.