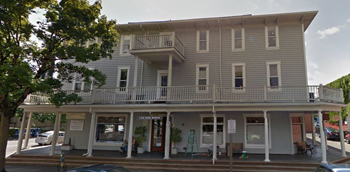 Location: 488 Willamette St. Downtown Eugene
Built and operated by Charles Lane. Here the city's first citizens gathered for traveling shows of various types, as well as other public events.
1869  Lane Hall was the first public structure built after the town was incorporated. The hall was a narrow frame structure with wooden benches located Eighth Avenue west of Willamette Street, then the heart of the business district. It housed many of Eugene's first musical events.
1882  Joe Lane enlarged and remodeled the hall to be a theater with a 22 by 30-foot stage at one end and a seating capacity of 600. It re-opened as Lane Opera House with address as 488 Willamette. It also served as a roller skating rink at times.
Today, the structure is still standing and occupied (see photo above).