Eugene's first documented organized band.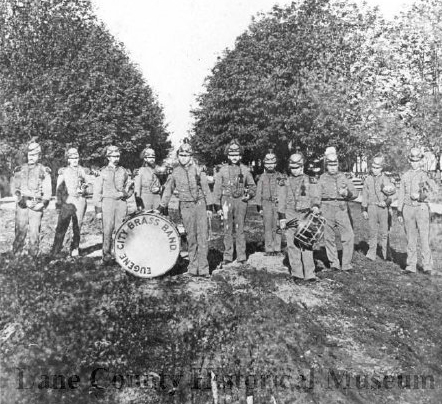 Active years as a band: 1859 – 1872
Active years as an association: 1872 – 1940s?
On March 5, 1859 the Eugene City Brass Band (a 14-piece band) gave a concert at the courthouse.
A news item in the People's Press had this to say about the concert: "…Notwithstanding the rain had poured down for several days wit but little cessation, and the streets were deluged with mud and water, yet there was a very full house in attendance…The performances, played on 14 instruments, consisted of singing, and playing with wind and stringed instruments, all well selected for such an occasion-marches, polkas, waltzes, songs, among which were the Star Spangled Banner, Nelly Gray, Beautiful Star, concluding with the Jolly Bachelor." – Source:
1872
Assembled as a Music Association March 30,  1872 by D.C. Felch, J.H. McClung and I.R. Peters.
The musicians first meet upstairs of Peters & Company's store and soon became exceedingly popular and initiated the study open air music. –Source: Illustrated History of Lane County
1881 Photo Description
Splendid helmets adorned the heads of the City Brass band members in 1881.  Left to right: Otis Jackson, J.W. Christian, J.B. Rhinehart, G.W. Smith, Mr. White, C.W. Horn, George Orr, Patrick O'Farrell, Ed P Dorris and Ed Whitney. The band has been in existence since 1872. –Source: Eugene Register Guard, Jan 4, 1942