The Eugene Armory, located in downtown Eugene on the northeast corner of 7th and Oak, was a popular music venue attracting both local and national acts.  aka: the Eugene's National Guard Armory or The Armory.
Address: 125 E 7th St., Eugene, Oregon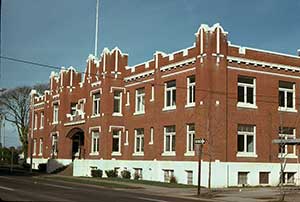 Building History
The Armory was built in 1914 and designed by a notable local architect John Hunzicker (1867-1945), who also designed the WOW Hall and the Eugene Hotel.
May 29, 1941 – Eugene Armory Users Ordered to Vacate
Nov 17, 1953 – Fire damages Eugene Armory (in switch panel)
Sept 30, 1968 – Arson at the Eugene Armory  (fire bomb set in the main building to ignite, explosions and fire hit the equipment compound)
The building was demolished November, 1976 after much protest from early preservationist. The empty site served as a parking lot until the early 1990's.
Eugene Register-Guard article about the demolition of the Armory (Eugene Register-Guard 9/23/1976)
Currently the Umpqua Bank is located here.
Concert History
Oct 2 1915 –Eugene's Biggest Musical Event – In the first of a series of three concerts of a caliber to rank Eugene with the largest music Centers in this Country. Eugene's New $75,000 Armory seating 3000, and Eugene Music Culture make these possible. Dates: Dec 14 Madame Gadski, Jan 18 The Rose Maiden, Feb 4 Signor de Gogorza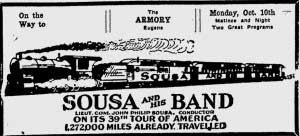 March 28, 1916 – Eugene Municipal Band
Apr 9, 1916 –  Damrosch Concert (New York Symphony Orchestra)
March 14, 1917 – Princess Tsianina and Chas. W. Cadman Concert
Sept 10, 1927 – Sousa and His Band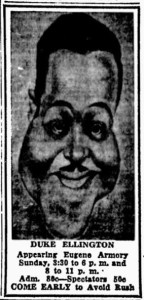 Dec 7, 1941 – Duke Ellington (day of Pearl Harbor attack in Hawaii)
Originally the concert/dance was scheduled at Willamette Park but was moved to The Armory after a fire damaged the Willamette Park Dance Hall. (11/24/1941 City Council Minutes)
The Duke Ellington Orchestra began their scheduled concert by having the audience sing along to "God Bless America" (Eugene Register-Guard 7/4/1999).
On December 6, the band members were in their railroad cars en route to a series of theater dates and one-night stands in the Pacific Northwest. On the afternoon of December 7, they arrived at Eugene, Oregon, to play… "Strayhorn and I were talking about something," saxophonist Harry Carney recalled, when I looked out the window and saw 'Tricky' [Sam Nanton] come running out of the station. He came back on the train and said, "We're at war, the Japs bombed Pearl Harbor.' All I can remember after that, is how quiet it suddenly became; nobody said anything. I don't remember much about playing the dance that night." (Source: Duke Ellington and His World, 2003)
35 Years – Letter to the Editor (Eugene Register-Guard  12/7/1976)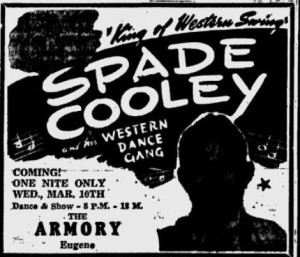 March 15, 1945 – Jan Garber and his Orchestra
Feb 4, 1948 – Tex Beneke leader of the old Glenn Miller band
March 10, 1948 – Spade Cooley and his Western Dance Gang
Dec 21, 1948 – Bob Wills and his Texas Playboys
April 22, 1949 – Count Basie and His Orchestra
Feb 19, 1953 – Stan Kenton & His Orchestra –Recorded Live At the Armory album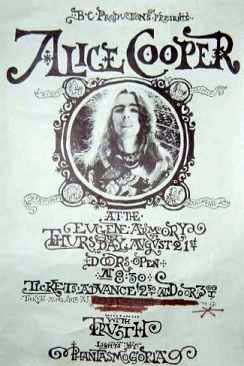 Dec 4, 1953 – Billy May Orchestra
Fall 1967 – Seeds
1967 – Buckinghams, "Kind of a Drag"
Jan 2, 1968 – Don and the Goodtimes
1968 – Tommy Boyce & Bobby Hart (YouTube interview before show)
July 27, 1969 – Alice Cooper, Steve Miller, the Searchin' Soul Blues Band
Aug 21, 1969 – Alice Cooper, with local band, Truth
Aug 28, 1969 – Sons of Chaplin and the Searchin' Soul Blues Band
Dec 29, 1969 – The Sonics (dance band from Seattle)
1969?  – The Wailers
1971 – Black Sabbath and Sweat-hog (Black Sabbath didn't finish their set due to a blown amp)
Oct 19, 1971 – Pink Floyd  – Meddle – US Tour. For more details see Examiner Article, Oct. 22 2011  and (set list)
Others (unsure of dates):
Fats Domino – late 50's
Three Dog Night – late 60's
Round Randy and The Moguls
Buddy Miles Express
Paul Revere and the Raiders
Country Joe McDonald
Bobby Sherman