Century Custom Recording Service, was a franchise of the Keysor-Century Corporation. By 1963, there were 80 franchise associates in the United States.  The franchise associates often produced records as independent labels. Notable franchise associates included Eugene, Oregon.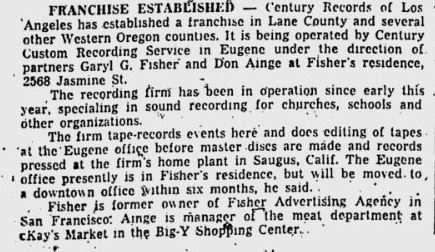 Location: 2568 Jasmine Street in Eugene, Oregon (Santa Clara neigborhood)
Garyl G. Fisher (born 1924) and Don Ainge (born 1936) produced several garage band recordings in Eugene. Don Ainge is the father of Danny Ainge, former professional athlete (Portland Trail Blazers) and current executive with the Boston Celtic.
Recording History
The X-Terminators (1964) – cut two original instrumentals, X-Termination and Wild Hare
The Moguls – (1966?) Ghost Slalome / Avalanche
Cottage Grove High School Band With Starlighters (Date?)
University of Oregon Symphonic Band (Date?)
Not much information about this label. I did find this information on a blog…so this may be a similar situation.
I did an interview with a local man who recorded a lot of local high schools in the 60's and 70's. He was in his high school band, but also had a thing for electronics, including recording. One day, a representative from Century Records asked him if he would be interested in recording local schools not only as hobby, but as a job. In other words, he would record these high schools for a fee, he'd send them to Century for pressing, Century would send it back and he would be responsible for distributing them to the high schools. He agreed, and that was his job for about eight years. He said he loved it, because music was a love of his and it was a chance for him to record that and share it to the parents who would be able to have a souvenir… (Source: Online blog)