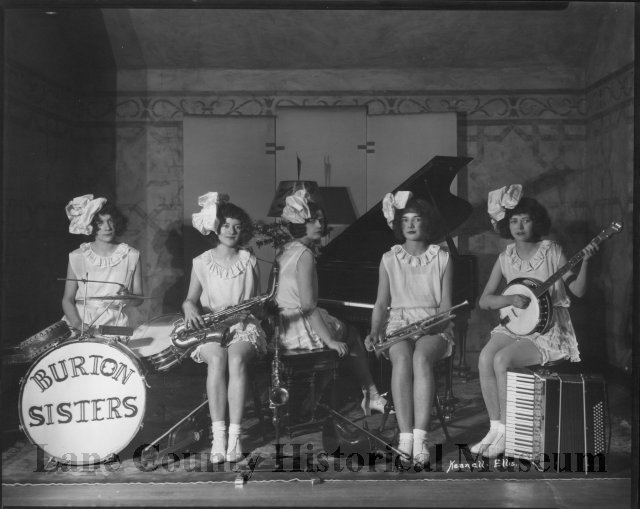 Burton Co-Ed Harmonizers were a popular family musical group who performed with a non-traditional mix of instruments and comedic costumes. The Harmonizers comprised of five sisters and performed in 1926-1929.
Nov 5, 1928 – The McDonald has selected Johnny Robinson's "Varsity Vagabonds" and the Burton Sisters' "Co-Ed Harmonizers" Orchestra. The Burton Sisters are to appear in novelty costumes and will feature a number of song and dance numbers, with saxophone solos and blues singing. The Varsity Vagabonds are arranging an elaborate stage setting. They are to play several comedy band numbers, vocal and instrumental solos and symphony jazz arrangements.
Costumes included:
Chorus line routine
Top Hats
Pretty dresses with flowery hats
Eskimos theme with white furry suits with hats and boots (1927)
Dutch outfits with frilly bottoms and dutch hats
V neck dresses with flower headbands
Native American dress with feathers and skins
Large paisley or flower dresses with high necks and pant leggings and flower in hair
Short skirts/shorts that flair out
Country Boy Costume  Bow Ties – straw hats, cropped light pants, light colored tops – on leopard rug
Mainstream of classical music, smaller orchestras entertained at local dances and smaller concert venues.
1929 – Burton Family Orchestra
Consisted of four of the sisters, an older women on piano and two men on tuba and trombone.