Location: 2nd Floor 1025 Willamette St, Eugene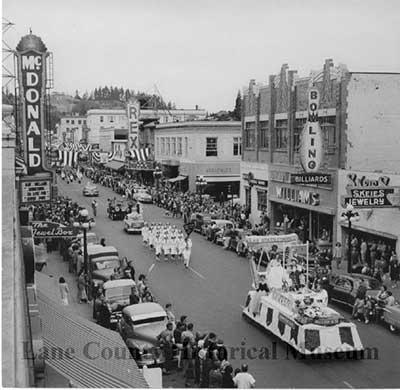 The Attic was located on the corner of 10th and Willamette Street, across from the McDonald Theater. It was a popular concert and dance hall in the late 60's and early 70's, booking both local and national touring bands such as Notary Sojac, the Wailers, Buddy Guy, Ike & Tina Turner and the Ikettes, and Charlie Musselwhite.
Notary Sojac played their first Eugene gig at The Attic 9/12/69.  On 2/7/70 Notary Sojac appeared with Total Eclipse from Portland. Bob and Steve Koski put on a surprise performance, "The Concerto for Obtuse Instruments" using sliding hybrid creations, including sliding microphone stands fitted with sax and trumpet mouthpieces, and garden hose. Source: Notary Sojac gigs website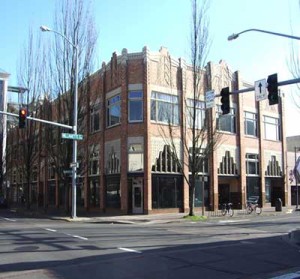 Wayne Hunter created the "liquid light show" for the shows which incorporated slides and a gelatin color wheel on a slow revolving drill.
Building History
The Schaefers Building was completed at the end of 1929.  The building is listed on the National Historic Record displaying the Art-Deco Ziggurat style popular of the 1920′ s. The exterior and common areas of the building were renovated with custom fabrication of the brick and tile masonry matching the original designs. The 2nd floor was originally designed as a bowling alley. The downstairs had a variety of uses, including Odyssey Records and Tapes.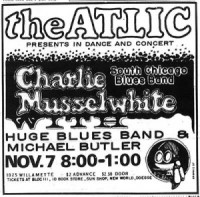 The second floor:
Bowling Alley (1929-??)
Eugene Recreation Center – Upstairs Bowling Alley/Billiards (1937-1965)
New Iron Bridge/Iron Bridge (1966 or 1967?) Two U.O. architect students started it.  It has been reported that live recordings were produced there.
The Great Balloon Ballroom – 1968 (The Golden Flea?)
The Music Machine – 1968? (1 reference found)
The Attic (1968 -1971) some of the 1st Saturday Markets were held here!
Currently the building is owned by the Lane Council of Governments (commercial office space) and occupy the downstairs. The upstairs in not in use. It is for lease, if anyone is interested in starting another Live Music venue!
Concert History
1966-67 – New Iron Bridge
1968 – Great Balloon Ballroom
March 14 – Four Eugene Rock Bands:  Transparent Delight, The Genetics, The Sixth Dimension, & The Sound Inspiration (the Great Balloon Ballroom)
1969 The Attic
Sweet Roll and Hard Tack County Spit Shine
Searchin' Soul, U.S. Kedenz 4 Blues band
Hammond Typewriter ("They played Midnight Hour twice because they ran out of material. I loved it."  – Tim Sellard)
Sept. 12 – Notary Sojac (their first concert in Eugene)
Nov. 22 – Velvet Underground with Notary Sojac and Goo Lights
1970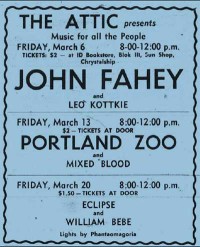 Jan. 18 – John Hammond, Hard Tack County Spit Shine, & Monty Fisher
Jan. 23 & 24 – Buddy Guy, Eclipse
Feb. 7 – Notary Sojac & Eclipse
Feb. 20 – Charlie Musselwhite, Monty Fisher, Silverhill
June 5? – Notary Sojac, Truth, Michael Butler