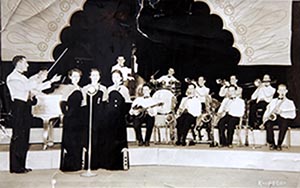 Art Holman (?-1961)
Art Holman was a popular musician and band leader in Eugene, Oregon in the mid 1930's to late 1940's.
He went to the University of Oregon and was a UO Track Star in the early 1930's. According to Duck track coach Bill Bowerman, Art Holman was "a very fine quarter-miler, a pretty good low hurdler and a very fine musician". Bill Bowerman was also an Oregon football player and track teammate of Holman's.  (Read full article)
Art Holman's Orchestra frequently played at Willamette Park Ballroom/Dance Hall. In November of 1941, a fire broke out at Willamette Park and destroyed much of Art Holman's original songs and the band members instruments.
After graduating from the UO, he was hired as the Band instructor for Eugene High School.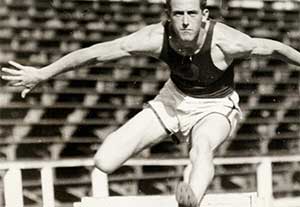 In 1947, Art moved to Carmel, California to teach music. He was hired by their school superintendent, Leo Harris, who later that same year took a new job himself here in Eugene, as Oregon's new director of athletics.
Art Holman's Orchestra members included:
Bruce Higby
Edgar Prany
E. Huffman
Clayton Wentz Jr
Dorr Huffman
Fred McKinny
Jim Emmett
Craig Povey
Darrell Renfro
Bill Reily
Art Holman – band leader
Betty Wycoff – Singer
Music History
1935 – Green Parrot Coffee Shop, 780 East 11th Avenue
July 4, 1939 – Swimmers Delight  (Art Holman's band and Carl Rooen's swing band)
Dec 22, 1939 – Willamette Park (Art Holman's Band)
July 5, 1940 – Willamette Park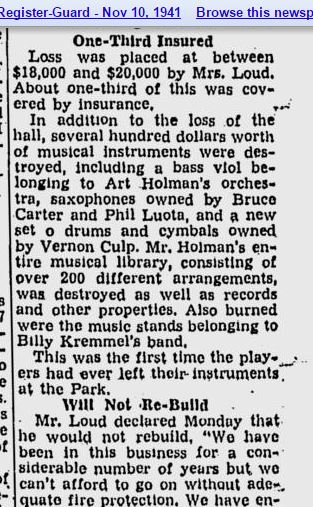 Nov 1941 – Willamette Park fire burns Art Holman band members instruments and origianl songs
1942 – The Holland
1943 – Eugene Hotel (Art Holman's 10-piece Orchestra)
1945 – Willamette Park – Couples Only (Art Holman and His Orchestra)
1945 – Eugene HS Year book…The music for the dance was provided by Art Holman, former Band instructor at Eugene High, and his orchestra.
1946 – Holland
1946 – UO Dance